In publications on rice milling technology anywhere in the world, you will come across the name Satake. All over the world Satake has become synonymous with rice milling.

Country Elevator
After rice is harvested, it must be dried and then stored in its unhulled state before husking. Country elevators perform functions that have made a significant contribution to increasing the productivity of farms.

Rice Milling Unit
It has a hygienic structure which eliminates residual rice remaining inside the vessel at the end of the milling batch.
The machine is suitable for the miller who produces various rice products in small batch sizes.

Color Sorter
This equipment rejects foreign materials that are mixed in with grains of rice or wheat. A sensor detects the foreign material which is then ejected by air at high velocities.

IH Cooking Line
This IH (induction heating) rice cooking system with round pots and a pot racking system is the first in the industry and provides the best cooking quality. Also, the type of rice for each pot can be individually selected.
Domestic Market Shares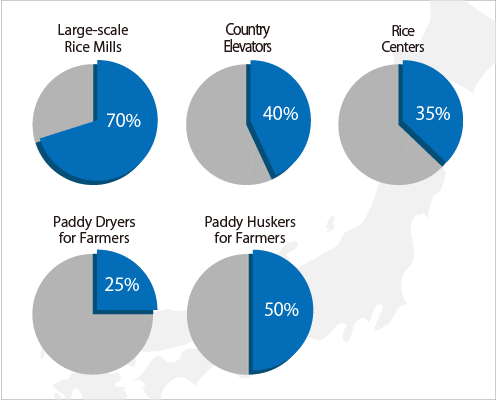 Overseas Market Shares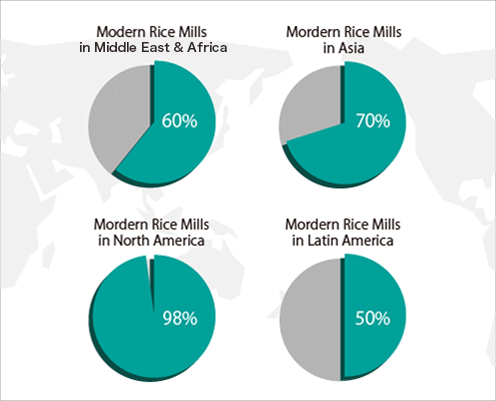 In 1996 Satake launched its new PeriTec system for the debranning of vulgare wheat for flour milling and durum wheat for pasta semolina production. The process combined the company's know-how across the cereal sectors and it capitalized on Satake's unrivalled experience in developing specialist equipment and processes for milling rice over the past 100 years. Since its launch PeriTec has steadily gained market acceptance in various regions, especially with customers intent on milling of premium products.

Henry Simon
The iconic legend of milling technology is back and continues to innovate with re-designed milling machines such as the Roller Mill and Purifier. These machines encompass a stunning combination of the latest technology, functionality and ergonomic design. The new range of equipment combines award winning aesthetics with high performance craftsmanship offering many years of reliable service and ownership.

Debranner
The equipment removes the pericarp, seed coat and testa layers efficiently by using rice milling technology. It simplifies the flour milling process following to the debranning, and improves flour quality.

Rollermill
The equipment is designed to optimize milling performance and also to satisfy usability needs of the operators. Its operation and routine maintenance such as roll replacement, lubrication and internal cleaning have been carefully considered so as to set a new standard for simple operation and use. Its conceptual design and construction are intrinsically hygienic so as to meet the stringent requirements of a modern food processing plant.

Maize Degermer
The equipment efficiently decorticates and degerms each individual maize kernel. The preconditioning system does not employ the excess water, steam or acids of conventional degerming systems. For this reason there is an energy saving by eliminating drying systems and the flavor and color of the resulting maize grits are enhanced. Purer endosperm can be obtained from the Satake Maize Degermer enabling the secondary milling process to be drastically simplified.

Coffee Polisher
The equipment polishes pulps, inner skins and dirt adhering to the surface of coffee beans, without splitting them. Undesirable flavors derived from skins and pulps are thus eliminated and the original aroma can be enjoyed.
Satake has made headway into the foodstuffs sector by directly producing and marketing processed rice products.

Instant Rice
"Magic Rice" is a new type of instant rice. Tasty cooked rice is readily prepared by pouring hot water over it. Since it can be stored for long periods and is easily cooked, it is widely used for outdoor living, emergency foods and institutional use.

Emergency Food
Cooked rice can be prepared in a time of disaster. A set for the distribution of cooked rice is also available.

Satake hopes to contribute to a sustainable society by developing a series of new environmental technologies, including composting plants, biomass power generation plants, and biomass briquetting and pelletizing plants.

Compost Center
Compost Centers are designed to benefit the rural community by effectively utilizing organic resources, providing proper treatment for livestock waste, and promoting recycling.
Biomass Gasification Power Plant
This plant generates energy with a thermal efficiency of approximately 20%, double that of conventional systems. The power consumption is similarly impressive at only 15% against total power generated, a reduction of 25%.
Biomass Briquetting and Pelletizing Plant
Satake supplies Biomass Briquetting and Pelletizing plants to customers all over the world. These plants can accommodate a wide variety of materials, including construction waste, scrap wood and sawdust from lumber mills, and otherwise unusable waste material from palm mills.

Satake has developed a motor having a high torque during starting and consuming less amperage than ordinary motors. Satake has been developing various industrial machines utilizing this motor.

Satake Induction Motor [SIM]
The brake compressors of the E5 Series bullet trains on the Tohoku Shinkansen are now powered by Satake's SIM Motor. Satake's motor has proven its effectiveness in installations overseas as well as domestic private railways and other branches of the Japan Railways Group.

Fire Extinguishing Pump
In high rise skyscrapers, where reliable and responsive fire extinguishing, power generation and air circulation systems are essential, Satake motors are widely used. These motors have been installed in many buildings, shopping centers, hospitals, and various public facilities throughout Japan, including Roppongi Hills.