July 11, 2012
The Biggest Country Elevator in Aomori Prefecture
JA Tsugaru-Mirai, Hirakawa Country Elevator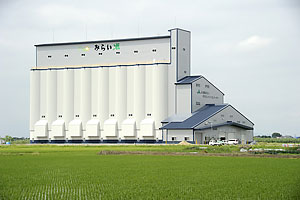 JA Tsugaru-Mirai, Hirakawa Country Elevator
A new Country Elevator was completed in April 2012 for JA Tsugaru-Mirai (Kitayanagida, Honmachi, Hirakawa City, Aomori Prefecture). It is the biggest Country Elevator in Aomori Prefecture and the, 4th largest in Japan, with its storage capacity of 8,000 tons. Various considerations have been introduced to enhance operational efficiency using conomies of scale to the utmost.
Aomori Prefecture is needless to say the biggest apple producing area in Japan. Aomori provides more than 50% of the out put in Japan and has a high reputation for quality and taste. Another reason that apples from Aomori are preferred is they can supply quality apples from storage facilities that preserve freshness for a long time. At Tsugaru Plain, the most popular cultivation area in the prefecture, you can see a landscape of vast apple orchards on the moderate slopes.
Mr. Naonobu Abo, Representative Director and Union President
Along with apples, Tsugaruroman, rice is a major agricultural product of the Tsugaru area. The area is known as a granary where quality rice is harvested. JA Tsugaru-Mirai, which covers Hirakawa City, Kuroishi City, Fujisaki Town, Itayanagi Town, Inakadate Town and a part of Hiroshaki City in Tsugaru Plain, recently opened the "JA Tsugaru-Mirai, Hirakawa Country Elevator (CE)". This CE has 8,000 tons of storage capacity, about 50% of rice acreage, and it is the biggest in the prefecture and the , 4th largest in Japan.
"The biggest aim of the new CE was to reduce the production cost of rice", Mr. Naonobu Abo, Representative Director and Union President, said. JA has a CE and a Rice Center (RC) in the area, each of which exceeds its designed service life. Repair costs were estimated for ongoing use of the CE and RC. These costs for maintenance are borne by JA and eventually by the farmers using the facilities. Mr. Abo decided to establish a new CE to drastically save maintenance costs by consolidating the drying and husking process, currently being performed by old facilities.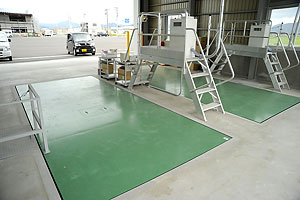 Truck Scales for Reception
On the other hand, it is inevitable that such a huge facility that harvests only one variety ("Tsugaruroman)" all at the same time would become congested. The new CE introduced various tactics to prevent congestion.
Truck scales are used to weigh at the reception. Actual receiving volume is calculated by the difference in truck weight before and after reception. Two truck scales are equipped at the entrance, and one truck scale is equipped at the exit. At the weighing station before reception, wet paddy samples are taken, pneumatically transferred to the test dryer, and evaluated for yield and quality with the grain quality inspection device, all of which is done automatically and promptly.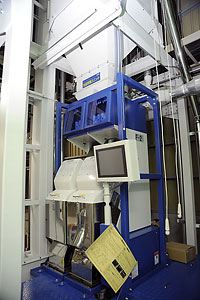 Pikasen Grand
Pneumatic Conveying System
There are 4 receiving hoppers at reception, and the trucks go from a scale to reception and the receiving hoppers and through to another scale without delays eve at peak harvest times.
Combining 5 drying and husking facilities has a big advantage in grain quality improvement and homogenization. JA Tsugaru-Mirai is working actively to produce rice in line with the guidelines sent by JA Zennoh Aomori, Federation of Agricultural Cooperative Associations in Aomori Prefecture, to use less pesticide in cultivation.
Optical sorters are indispensable when improving quality with less pesticide. The Hirakawa CE introduced Pikasen Grand, an optical sorter, which has 3.6t/h throughput capacity for brown rice. It removes not only discolored kernels but also impurities such as stones, resins, glass. One Pikasen Grand is installed in each of two processing lines in the CE.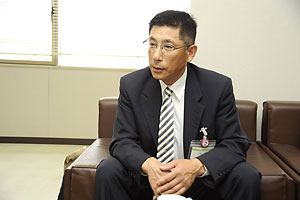 Mr. Hisao Kudo, Head of Rice Operations
Mr. Hisao Kudo, Head of Rice Operations, said "The biggest advantage of the new CE is that we can provide farmers with the benefit of cost reduction." A certain amount of profit is required to maintain the sustainability of local rice production. Mr. Kudo believes that JA Tsugaru-Mirai willl strengthen the base of local farming by promoting the use of this efficient and cost effective facility.
JA Tsugaru-Mirai will work on the expansion of rice production for animal feed, using Onoue RC and CE which became a surplus from the consolidation. Their effort will largely contribute to Japan's self-sufficiency of food, as well as local agricultural promotion.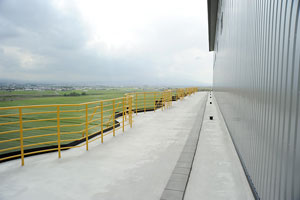 Panoramic View of Mt. Iwakisan from the roof of the Silos.
JA Tsugaru-Mirai, Hirakawa Country Elevator
Primary Contractor : JA Tsugaru-Mirai
Location : Murai, Daikoji-Ichi, Hirakawa City, Aomori Prefecture
Design and Construction : Satake Corporation
Construction Period : April 28, 2011 to March 28, 2012
Designed Input Material : Wet Paddy (Coverage 1,029ha)
Area : 19,999.64m2 (total), 1,101.22m2 (plant), 181.6m2 (ancillary), Height 43.92m (highest)
Silo Capacity : 8,000t
Max. Receiving Capacity : 658.1t / day
* Please note descriptions in news releases are accurate as of the date of release and may differ from the most up-to-date information.