October 02, 2006
Aki Takaka Agri Foods Co., Ltd. Introduced the Latest IH Rice Cooking Lines
The First Integrated Rice Processing Complex in Japan, including Rice Milling, Rinse-Free Rice Processing and IH Rice Cooking Lines with Robot Arms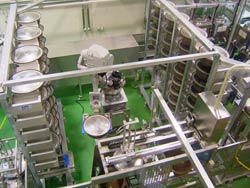 Satake Corporation delivered and installed integrated rice milling line from rice milling and rinse-free rice processing to IH Rice Cooking to Aki Takata Agri Foods Co., Ltd (Yachiyo, Aki-Takata City, Hiroshima Prefecture). The new lines were completed on September 25, 2006.
Aki Takata Agri Foods Co., Ltd. is a semi-public corporation jointly invested by Aki-Takata City, JA North Hiroshima Branch (Agricultural Co-operative Associations) and Hiroshima Ekiben Co., Ltd. (Delicatessen Company).
Aki-Takata City is famous for producing quality tasty rice. The new plant was authorized by HACCP first in Japan in the integrated delicatessen production plant from rice milling and rice cooking, and attracted attentions from the industry.
It has a capacity of 3,000 lunch boxes per hour (20,000 lunch boxes per day) and delivers it to schools, hospitals, office dinings, restaurants and convenience stores. It is planned to deliver 1,500 tons/year (4 tons/day) of milled rice and rinse-free rice to superstores and other rice cooking plants in 5 years, which quantity is equivalent to 1/4 of total rice production in the area.
Satake Corporation accepted an order of the facility collectively, as a total food engineering company that can supply from rice milling to cooking by its own research and development. Satake also supplied JA North Hiroshima Branch with country elevators(*1) and rice centers(*2), and is proud that the rice harvested in this area is treated by Satake machinery. Satake will promote this complex widely.
*1 : Drying, husking and brown rice storage plant.
*2 : Small scale rice milling plant from drying to rice milling.



Details of Machinery Introduced
Rice Milling Unit (SAF1A / 1unit)

Small lot / wide range of varieties operation is possible.
Residual free structure proves no contamination.
Superior in bran removal and lower grain temperature ensures better in taste.

Optical Sorter (RMGS210NT / 1 unit)

Digital image processing proves accurate detection.
Yield and defectives concentration is significantly improved.

Rinse-Free Rice Production System (NTWP05A / 1 unit)

Super-low pressure processing prevents starch cells from being damaged.
Edible tapioca ball is applied for complete bran removal.
No drain occurred and is hygienic.

IH Rice Cooking Line with Robot Arm (2 lines)

IH is superior in heat efficiency and heat control.
Round bottom pot along with IH ensures better and uniform cooking quality.
The lines are capable to cook the 60 pots up per hour (420kg per hour).
* Please note descriptions in news releases are accurate as of the date of release and may differ from the most up-to-date information.