March 2, 2023
Satake announces Excellent Employee Award 2022
One team, One goal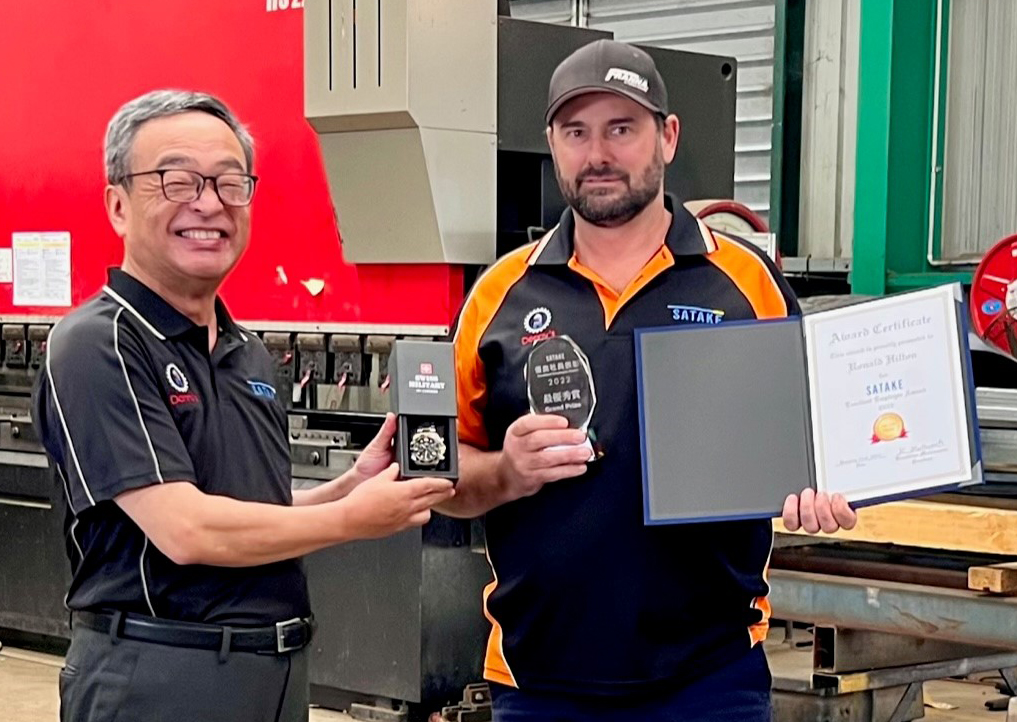 From left: Kenji Yamashita (President & CEO, Satake Australia) and Grand Prize winner Ronald Hilton

Hiroshima, Japan; March 2, 2023 - Satake Corporation announces recipients for its global Excellent Employee Award 2022.
Ronald Hilton, manager leading Production Departments of Satake Australia, was selected for the Grand Prize based on his outstanding performance and leadership managing manufacturing operation in the midst of COVID-19, resulted in acquisition of new projects.
Further 3 employees from 3 global offices were awarded First Place, and 5 employees from 2 office were awarded Inspire Award.
"The award winners are the inspiration to all Satake group members. It is people like them who encourage and motivate the group to become one team to continue achieving our goal, supporting our customers." says Kazuhisa Matsumoto, president and CEO of the Satake Corporation.
Ronald commented "It was an honour to be nominated for the Satake Excellent Employee Award and an even greater honour to be awarded the Grand prize winner. I'd like to wish our group every success in the future and look forward to being a productive team member for many years to come". Ronald joined Satake Australia in Allora in 2018, started as Workshop Supervisor. He was appointed as Production Manager in 2021.
The Satake Excellent Employee Award was established in 2019 and is awarded annually to its global employees who exhibit outstanding performance and contribution.
-- -- -- -END- -- -- --
*Please note descriptions in news releases are accurate as of the date of release and may differ from the most up-to-date information.
Appendix
【Excellent Employee Award 2022 Winners】
- Grand Prize Winner -


Ronald Hilton, Manager
Production
Satake Australia Pty. Ltd.
15 Leland Street, Penrith, N.S.W., 2750, Australia
http://www.satake.com.au






- First Place Winner -


Mark Krumpa, Process Control Engineer
Technical

Satake Europe Ltd.
Horsfield Way, Bredbury Industrial Park, Bredbury,
Stockport, Cheshire, SK6 2SU, UK
http://www.satake-europe.com






Lenir Boeing Yamaguti, Commercial Coordinator
Commercial

Satake America Latina Ltda.
Rua Xavantes, 155-Pav.20, Bairro Atiradores,
CEP 89203-210, Joinville, Santa Catarina, Brazil
http://www.satake.com.br

Zhaò Huī, Project General Manager
Satake System Engineering(Suzhou) Co., Ltd.
229 Jin Feng Road, Suzhou New District, Suzhou City,
Jiangsu Province, 215129, People's Republic of China
https://www.satake-group.com

- Inspire Award -


Eve Jones, Manager
Human Resource
Satake USA, Inc.
10900 Cash Road, Stafford, Texas, 77477, U.S.A.
http://www.satake-usa.com





Athit Srisaphrom, General Manager
Purchasing
Satake Thailand Co., Ltd.

133, 134 Moo 5, Bangkadi, Mueang Pathum Thani,
Pathum Thani 12000, Thailand
https://www.satake-group.com

Opas Bhuwo, Expert 4
Strategy
Satake Thailand Co., Ltd.

Nucha Sisawan, Expert 3
Quality Control
Satake Thailand Co., Ltd.

Pornpan Phoophayang, Senior Supervisor
Purchasing
Satake Thailand Co., Ltd.