May 10, 2022
Satake India Wins 51st EEPC India National Award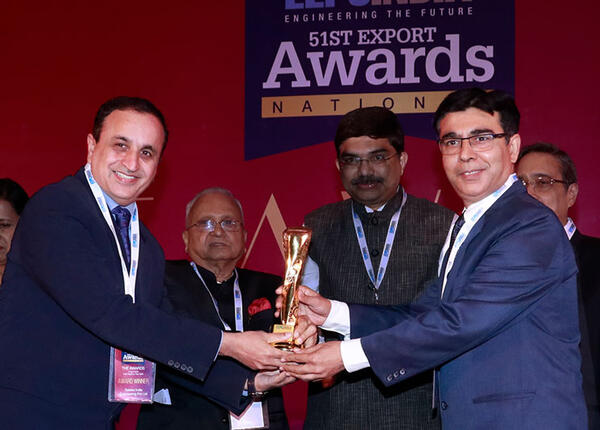 Left: Rajinder Kumar Bajaj, Director, and
Right: Sanjiv Bhatia, General Manager, Satake India, receiving the award
Hiroshima, Japan; May 10, 2022 - Satake announces its subsidiary Satake India Engineering Pvt. Ltd. (SIE) has won a Special Trophy Award in Excellence in Export of High-Technology products from the Engineering Export Promotion Council (EEPC) India. The award ceremony was held on April 13th during the 51st EEPC India National Award 2022 at Hyatt Regency, New Delhi, India.
Established in 1955, EEPC India is the premier trade and investment promotion organization in India. It is sponsored by India's Ministry of Commerce & Industry, and caters to the Indian engineering sector.
Rajinder Kumar Bajaj, Director of Satake India, says "This is a very prestigious award in India. Satake India has been exporting grain processing plant accessories and ancillary equipment such as control panels for projects overseas. We are considered as one of the top 111 companies in India exporting high technology items, and we would like to continue promoting ourselves to the existing and potential customers with our innovative technology."
-- -- -- -END- -- -- --
*Please note descriptions in news releases are accurate as of the date of release and may differ from the most up-to-date information.