March 16, 2022
Satake Launches New Husker in Asia
Patented technology, the Idler Switching System to maximize efficiency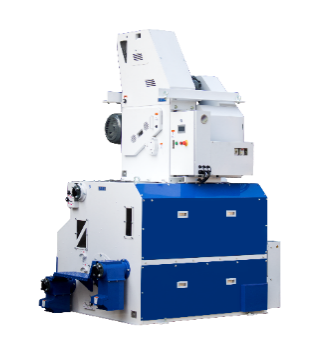 HR10DDF-T
Hiroshima, Japan; February 28th, 2022 - Satake introduces a smarter and more economical paddy husker to the Asian region. The new HR10DDF-T utilizes Satake's latest patented technology, the Idler Switching System, to minimize operational costs. Husking performance has also been improved compared with previous models.
The new Idler Switching System automatically adjusts the speed and pressure of husking rollers to ensure a constant optimum pressure needed to remove the husk without breaking the kernel. The system also eliminates the need for frequent right-and-left roller replacement, dramatically reducing operational costs and allowing for the full utilization of rubber rollers. Additionally, built-in sensors can detect worn out rollers, send an alarm notification, and automatically stop the machine.
The new model was made more user friendly by incorporating an easy-to-use touch panel control interface. The machine can also be equipped with an optional outlet for immature grains. Users of previous models will continue to enjoy the machine's easy maintenance and cleaning.
The HR10DDF-T paddy husker's new technology ensures optimum husking efficiency and utility. The machine is sure to save time, effort, and cost.
-- -- -- -END- -- -- --
*Please note descriptions in news releases are accurate as of the date of release and may differ from the most up-to-date information.
Appendix
【Specifications】
Model
HR10DDF-T
Component (Husker & Aspirator)
Husker HU10DDF-T
Aspirator HA10DFA-T or HA10DFB-T
(optional outlet)
Input Capacity
(metric ton/hour)
Short Grain Rice
5.0 - 7.0
Medium Grain Rice
4.0 - 6.0
Long Grain Rice
3.0 - 4.0
Basmati (Parboiled)
2.5 - 3.5
Required Power (kW)
11.2 (HU:7.5 HA:3.7)
Required Quantity of Motors (Unit)
7.5kW (6P): 2
3.7kW (4P): 1
*2, 3 Capacity and accuracy may vary depending on variety, condition of material, and contaminants.
【Dimensions】
| | | | | |
| --- | --- | --- | --- | --- |
| Model | Width (mm) | Length (mm) | Height (mm) | Weight (kg) |
| HR10DDF-T | 1,594 | 2,003 | 2,790 | 1,881 |
-- -- -- -END- -- -- --