June 23, 2023
Satake wins FOOMA Award 2023 Grand Prize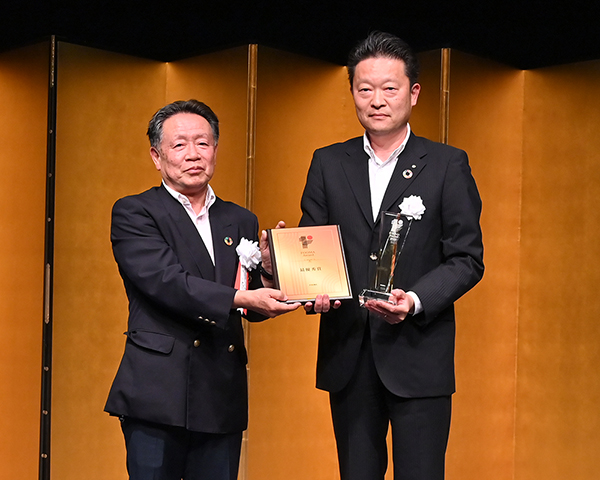 Right: Yoshimasa Tomoyasu, Managing Director, receiving the award
Hiroshima, Japan; June 23, 2023 - Satake announces its X-ray optical sorter, Beltuza Spectra, has won a FOOMA Award Grand Prize at the FOOMA Japan 2023. The award ceremony was held on June 6th during the 46th International Food Machinery and Technology Exhibition, FOOMA, at Tokyo Big Sight, Tokyo.
Established in 2022, the FOOMA Award aims to stimulate food machinery technological research and development and disseminate that technology. Its goal is to spread awareness of excellent machinery and equipment, to promote productivity, resolve labor shortages and contribute to development of new food products, thereby playing a part in improving food culture and food safety.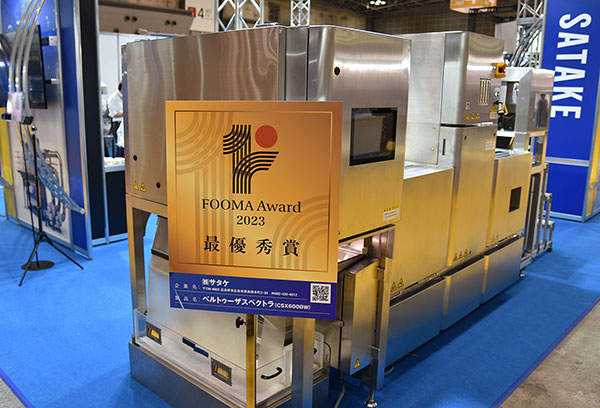 Beltuza Spectra at FOOMA 2023
Beltuza Spectra, released on January 20, 2021, removes various types of defective products from raw materials. By utilizing data in a wide wavelength band from near-infrared rays to X-rays, it is possible to sort defects which was difficult in the past. It use Satake's unique image processing technology called "MIX Sensitivity" to accurately sort defective products with similar colors, and artificial intelligence (AI) and X-rays to accurately sort internal defects such as pin-holes from Almonds.
Yoshimasa Tomoyasu, Managing Director of Satake, says "Since its release, sales have been brisk in countries such as Japan, the United States and Australia. Its major feature is that it can be used in a wide range of ways in the tree nut processing line. We will continue to promote this unique product in the nut industry. We will also actively promote it to other areas as well, aiming to improve product quality and productivity in many different industries."
-- -- -- -END- -- -- --
*Please note descriptions in news releases are accurate as of the date of release and may differ from the most up-to-date information.